---
Overview
On each International Women's Day from 2021 to 2023, Alexandra Moore, one of PRI's women climate scientists, created a short video feature on some of the activities that she engages in across a typical day. Each of those videos is linked below, with student activities that match the theme of each film.
---
---
The videos cover three topics: Behind the Scenes is a discussion of what goes into creating activities about wind and solar power. Behind the Scenes in Paris shows the fieldwork behind a discussion of the importance of trace elements in environmental science, and we visit the Paris lab of Marie Curie, where she did her pioneering work on the nature of radioactivity. Biking through Women's History Month is a look at how and why we can create bike-friendly cities.
---
---
Each linked activity has its own specific learning objectives.
---
Lesson Format & Time Required
The videos can be viewed as stand-alone elements; each is between 8-12 minutes long. Each video points to an activity associated with that topic, which typically requires an additional class period.
---
NGSS Standards are given for the individual activities.
---
Dr. Alexandra Moore
Paleontological Research Institution, 1259 Trumansburg Rd., Ithaca NY 14850
moore@priweb.org
---
---
Instructions & Materials
---
Each of the Women's History Month videos is linked to a related hands-on climate change activity for students in grades 6-12.
Resources
---
---
---
---
Bicycles are connected both to women's history and to our climate future. In the late nineteenth century bicycles offered women new freedom and mobility. The popularity of bicycles prompted new fashions for women that were less restrictive, while newly mobilized women prompted social change and expansion of the voting franchise. Today bicycles remain important for women's mobility, and have become an important centerpiece of carbon-free transportation and the redesign of more livable cities. On International Women's Day join Alex in Paris to look at some of the ways that this city is moving forward with active transportation.
---
---
---
---
---
To celebrate International Women's Day and Women's History Month, take a look behind the scenes at a typical workday for one of PRI's women science educators. Follow Alex through Paris, where we'll visit the Natural History Museum to learn about the importance of trace elements in gems, then on to the Institut de Physique du Globe de Paris and the Curie Pavilion to reflect on the importance of diversity and inclusion in science.
---
---
---
---
---
To celebrate International Women's Day and Women's History Month, take a look behind the scenes at a typical workday for one of PRI's women science educators. Alex talks about the process of creating and filming wind and solar power activities to help students understand and act on global climate change.
---
---
Background & Extensions
---
Consider three remarkable women; Greta Thunberg, Christiana Figueres, and Mia Mottley. You undoubtably know at least one of these women, do you know all three?
If you've asked yourself what might be the connections between Women's History Month and the ongoing changes in global climate, women like Mia Mottley, Prime Minister of Barbados; Christiana Figueres, Executive Secretary of the UN Framework Convention on Climate Change (2010-16); and Greta Thunberg, founder of School Strike for Climate, make a good starting point.
Consider first that the climate crisis is not gender neutral. Women and girls experience the greatest impacts of climate change, which amplifies existing gender inequalities and poses unique threats to their livelihoods, health, and safety. In 2022 the UN Commission on the Status of Women acknowledged the important role of women and girls as agents of change for sustainable development, in particular safeguarding the environment and addressing the adverse effects of climate change.
Across the globe women have taken leadership roles in addressing the climate crisis, as we have also expanded leadership in other endeavors such as politics and scientific research. For example:
---
Christiana Figueres is a Costa Rican diplomat. From 2010-2016 she was the Executive Secretary of the United Nations Framework Convention on Climate Change, the convention that established an international environmental treaty dedicated to combatting "dangerous human interferences in the climate system," in part by reducing the concentrations of atmospheric greenhouse gases. As executive secretary of the UNFCCC she successfully guided the negotiations among 195 countries to reach the Paris Agreement on climate in 2015. The Paris Agreement requires participating countries to determine, plan, and report on their contributions to limit global average temperature to 1.5°C above pre-industrial levels.
Christiana Figueres's TED Talk: "The case for stubborn optimism on climate"
---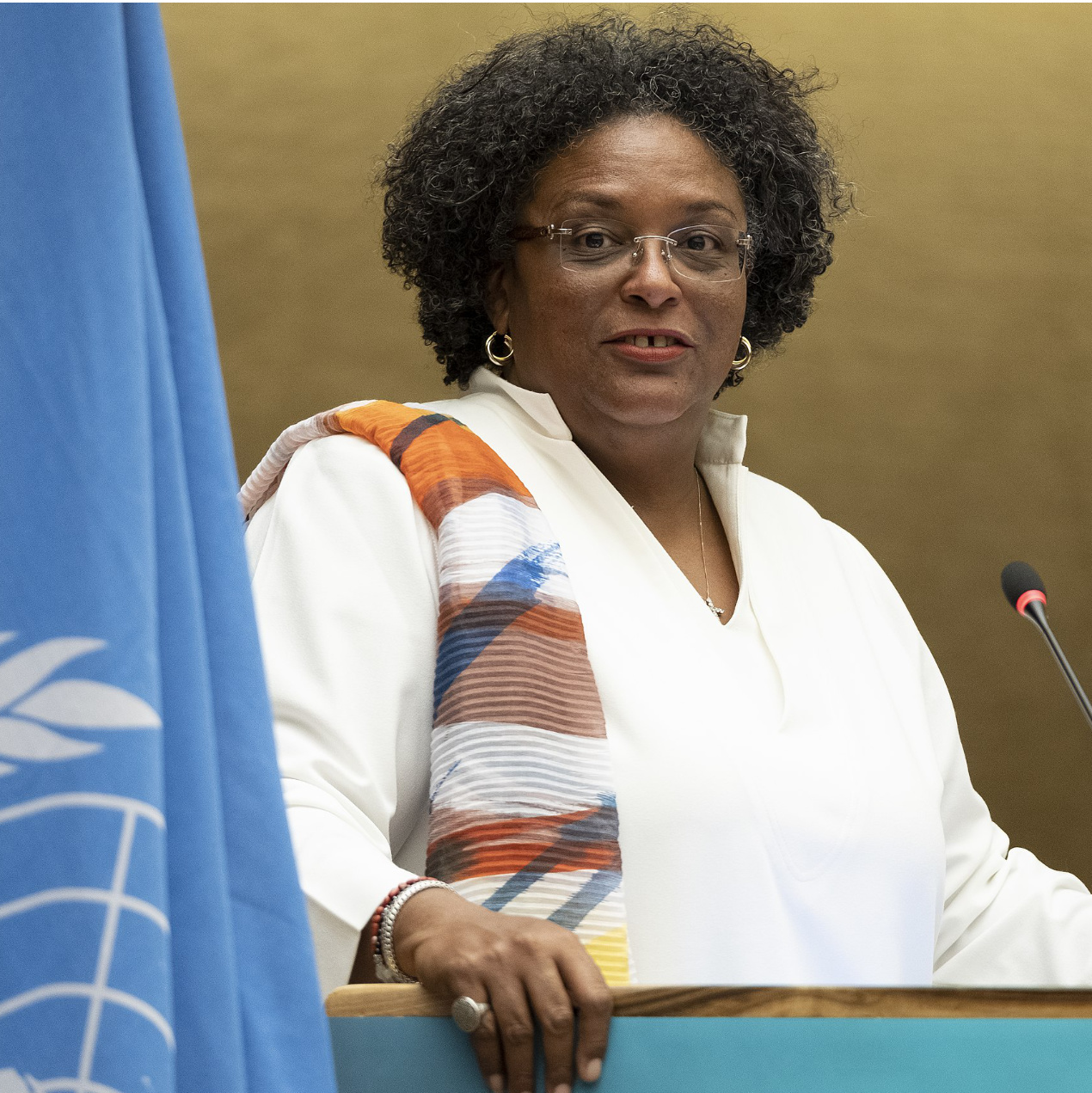 Mia Mottley is an attorney and politician from Barbados. She has been the Minister of Education (the youngest ever, appointed at age 29), Minister of Economic Affairs, and the Attorney General of Barbados.  Since 2018 she has served her country as Prime Minister. In that position Mia has taken a global leadership role advocating for sustainable development and for fighting climate change. At the opening of the UN COP26 climate conference she challenged world leaders to act, saying, "Code Red!...For those who have eyes to see, for those who have ears to listen and for those who have a heart to feel, 1.5 is what we need to survive, 2 degrees...is a death sentence."
Prime Minister Mia Mottley addresses UN COP26 .
---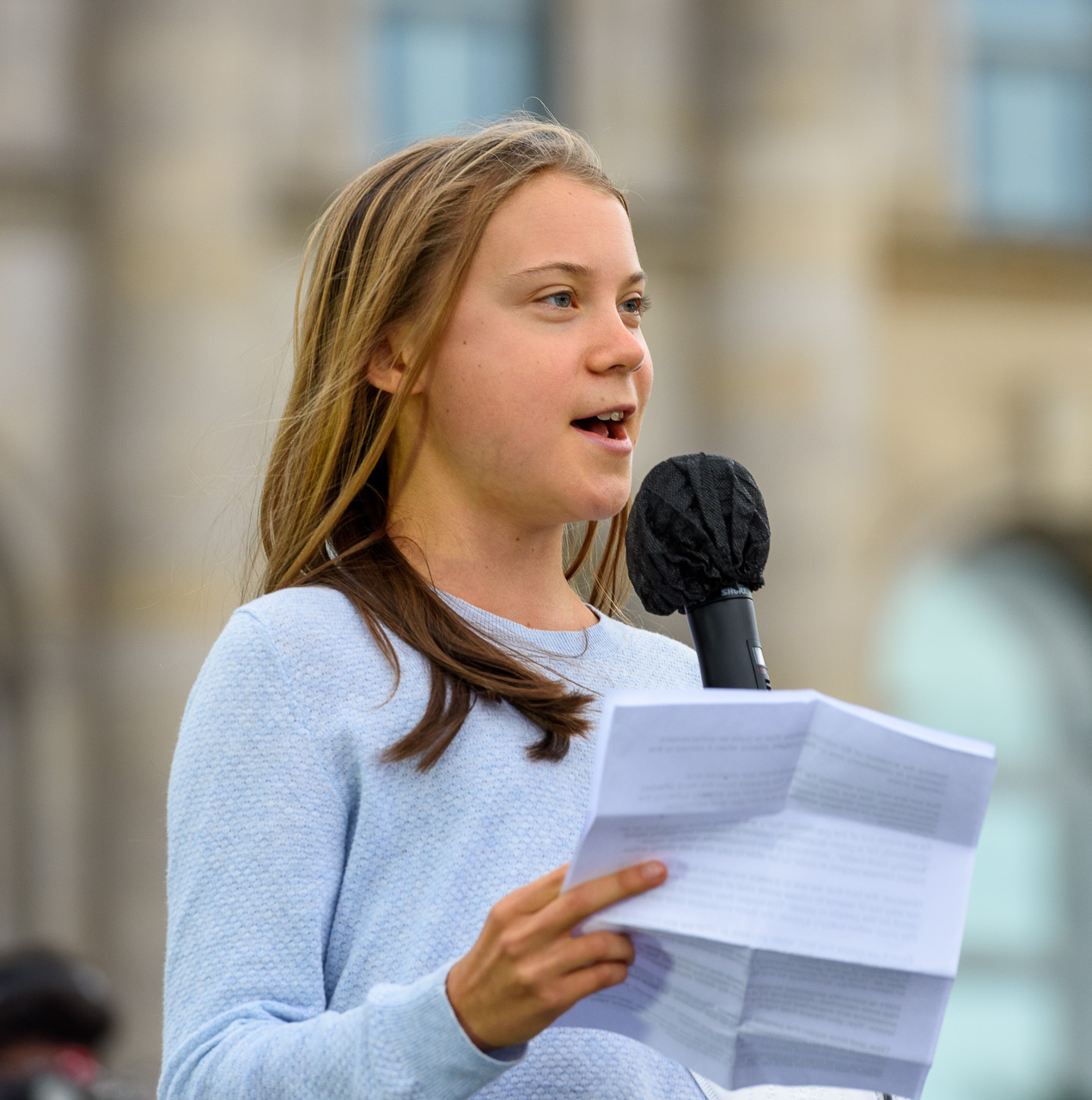 Greta Thunberg is a Swedish climate activist. In 2018, when she was 15, she decided to take action on the climate crisis, spending every Friday outside the Swedish Parliament engaged in a School Strike for Climate. Soon other students, worldwide, joined her, creating the school climate strike movement Fridays for Future. Greta is emphatic about the need to "Unite behind the science and to act on the science," and she advocates for the climate struggles of her peers in the global south, saying, "We talk about our future, they talk about their present." She is among the most influential climate activists in the world, having addressed the United Nations Climate Action Summit in 2019, UN COP24, COP25 and COP26 and international political bodies including the US House Select Committee on the Climate Crisis, the World Economic Forum, the Environment Committee of the European Parliament.
Greta Thunberg addresses UN COP24.
---
Greta, Mia and Christiana are just three of many, many women who are leading the fight against climate change. If you try an internet search for women climate leaders you will discover many more. And that's a search worth doing, especially if you feel alone, frustrated with the slow pace of change, or in despair about our climate future. We are not alone, and the ability of individuals to make change is our superpower
During Women's History Month we can look both forward and back, reflecting on, and learning about, the inspiring women on whose shoulders we stand. In the second of the three videos featured here we visit the laboratory in Paris where Marie Curie conducted the research that led to two Nobel prizes, one in physics and one in chemistry. Marie Curie is the first woman to become a Nobel laureate, and she is the only person, male or female, to earn two Nobel prizes in science. Twenty-four years later a second woman became a Nobel science laureate, Marie's daughter, Irène Joliot-Curie. The number of women Nobel laureates since then is not large, but it is growing. Follow the links below to explore the accomplishments of many more notable women!
---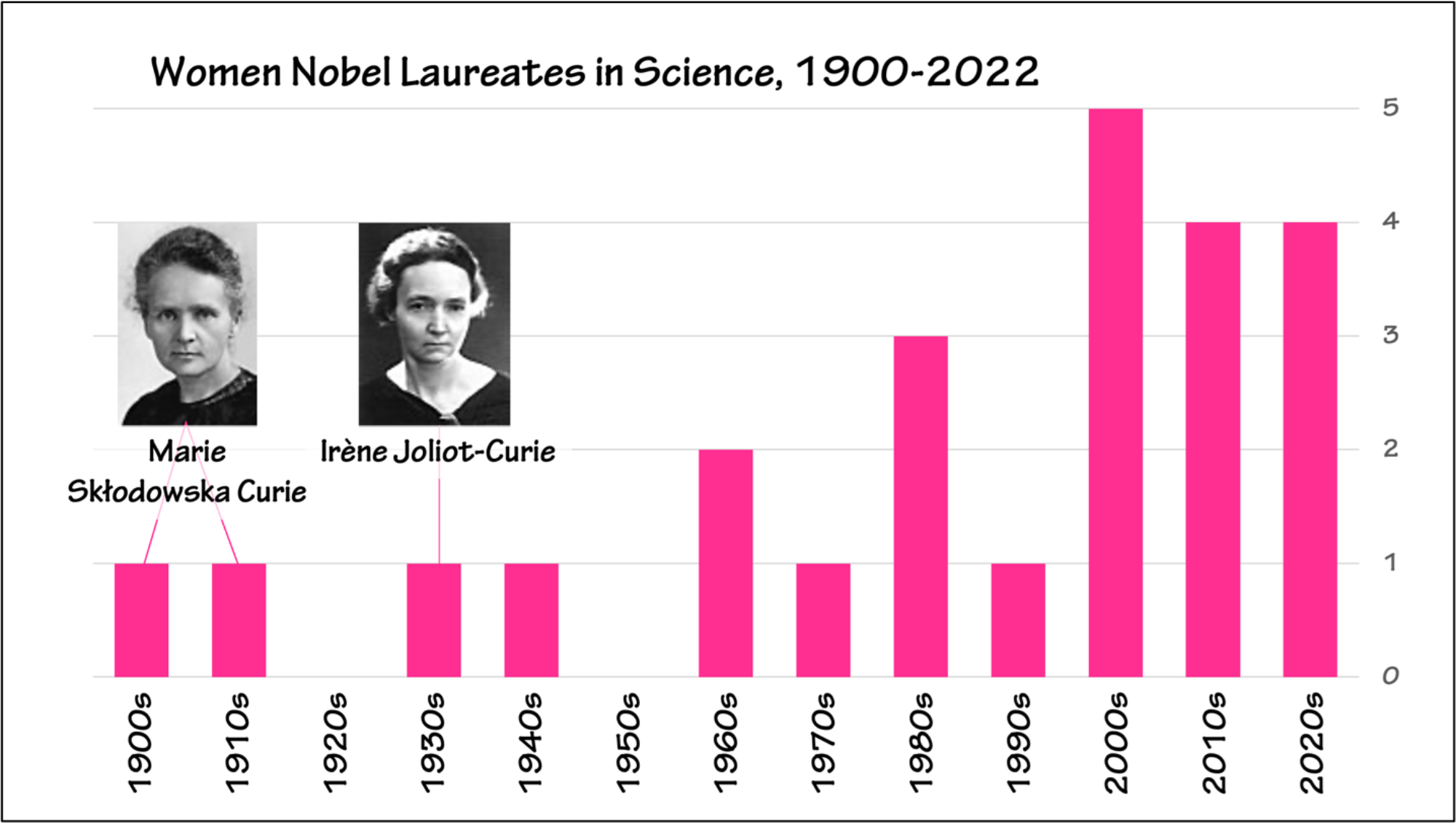 Figure 1: Women Nobel laureates in science by decade, 1900-2022. In the decade that began in 2020 we already have 4 laureates in the first three years. Figure by Alexandra Moore for PRI's Earth@Home project (CC BY-NC-SA 4.0 license), with data from Wikipedia.

---
Additional Links for Women's History Month
---
---
---
---
---